Rock of the 70's - Rescheduled to Saturday, Sept 4, 2021
September 4, 2021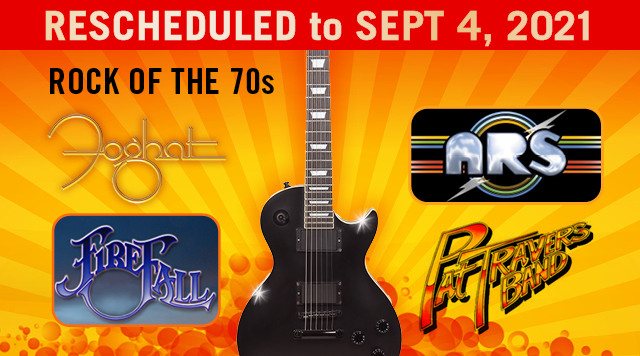 Date:
September 4, 2021 • 7:30pm
Cost:
Tickets start at $35 plus taxes and convenience fees
Buy Tickets
The Rock of the '70s concert originally scheduled for Saturday, April 11, 2020 at Kansas Star Arena has been rescheduled to Saturday, September 4, 2021 at 7:30 p.m.

All tickets for the April 11, 2020 show will be honored for the September 4, 2021 rescheduled date. Guests that are not able to attend the rescheduled show will be offered a refund at the original point of purchase. On March 18, the Kansas Lottery ordered the temporarily closure of all casinos in the state of Kansas as a precautionary measure to prevent the spread of the COVID-19 disease.

Guests can purchase tickets for the September 4, 2021 show for $35 by visiting www.kansasstarcasino.com/entertain/arena. This is an-all ages show.

Rock of the '70s brings the best of four great bands to the stage at Kansas Star Arena on Saturday, September 4, 2021.

Foghat is an English rock band that formed in London in 1971. The band is best-known for their use of the electric slide guitar in their music. The band has achieved eight gold records, as well as one platinum and one double platinum record. Foghat is also known for their top hits, including "Fool for the City," "Slow Ride," "I Just Want to Make Love to You" and more.
Atlanta Rhythm Section has been part of the southern rock scene for nearly 50 years. Their biggest hits include "So Into You, Champagne," "Jam, Imaginary Lover" and "Homesick and Spooky." With 15 albums of outstanding songwriting and performances, the Atlanta Rhythm Section continues to win over fans with their classic rock hits.
Firefall has enjoyed a career that spans more than forty years. Firefall's success includes three gold albums, two platinum and 11 chart-topping singles. The band's biggest hit, "You are the Woman" has been played on commercial radio more than 7,000,000 times. Firefall continues to make great music and has toured the world and shared stages with other iconic bands, such as The Beach Boys, Kenny Loggins and Journey.
The Pat Travers Band burst into the music scene in the mid-'70s, bringing their hard rock hits to stages around the world. Throughout their musical career, the band released several celebrated albums, including "Retro Rocket," "Don't Feed the Alligators," "Boom Boom," "Blues Magnet," "Black Pearl" and more. Some of the band's top songs include "Is This Love" and more.
The show begins at 7:30 p.m. Tickets on sale now! Tickets start at $35 and can be purchased at www.kansasstarcasino.com/entertain/arena. This is an-all ages show.