Howie Mandel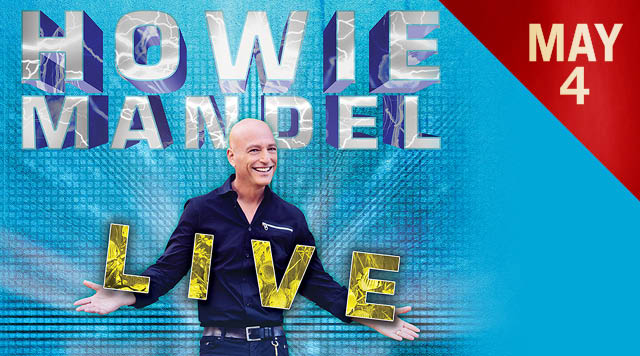 Date:
May 4, 2019 7:30pm
Cost:
Tickets from $30 plus taxes and convenience fees
Buy Tickets
Emmy-Nominated TV Host and Comedian Howie Mandel
Performs at Kansas Star Arena May 4, 2019

MULVANE, Kan.— Celebrated stand-up comedian and television host Howie Mandel will bring his side-splitting humor to the Kansas Star Arena.

Mandel has remained a constant force in show business for more than 30 years. He currently serves as executive producer and host of the hit CNBC game show "Deal or No Deal" and can also be seen as a judge on NBC's "America's Got Talent: The Champions." He has served as a judge for nine seasons on NBC's summer talent competition series, "America's Got Talent," which was recently picked up for a fourteenth season. The second season of his Nat Geo Wild Series "Animals Doing Things," which he co-hosts with his son Alex, will air in June 2019.

Mandel has done countless comedy specials both on cable and network television with his most recent special, ""Howie Mandel Presents Howie Mandel at the Howie Mandel Comedy Club" premiering on Showtime in January 2019. He previously hosted his own syndicated talk show, "The Howie Mandel Show," and continues to be a mainstay on the talk-show circuit.

Doors open at 6:30 p.m. The show begins at 7:30 p.m.