Air Supply - Rescheduled to September 25, 2021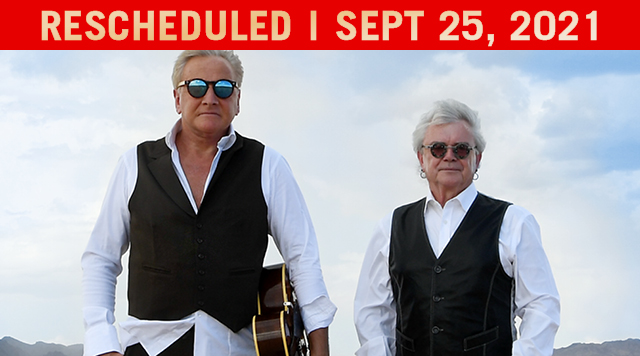 Date:
September 25, 2021 • 7:30pm
Cost:
Tickets from $30.00
Buy Tickets
The Air Supply concert originally scheduled for Saturday June 6, 2020 at Kansas Star Arena has been rescheduled to September 25, 2021

All tickets for the June 6, 2020 show will be honored for the September 25, 2021 show. Guests that are not able to attend the rescheduled show will be offered a refund at the original point of purchase. On March 18, the Kansas Lottery ordered the temporarily closure of all casinos in the state of Kansas as a precautionary measure to prevent the spread of the COVID-19 disease.

Guests can purchase tickets for the show by visiting www.kansasstarcasino.com/entertain/arena. This is an-all ages show.

Highly-acclaimed soft rock duo Air Supply will perform at Kansas Star Arena.

Formed in 1975, Air Supply members Graham Russell and Russell Hitchcock burst into the music scene with their unique vocals, harmonic ballads and soft rock sound. Early in their career, the duo performed throughout Australia, winning over fans with hit singles like "Love and Other Bruises." Air Supply later gained international recognition as the opening act for Rod Stewart's North American tour.
Air Supply's popularity skyrocketed with the release of their album "Lost in Love," which sold more than two million copies. The album included the hit songs "All Out of Love," "Every Woman in the World" and "Lost in Love," which topped music charts across the globe, including in Australia, the U.K. and the United States. The soft rock group went on to release 30 albums and more hit singles like "The One That You Love," "Making Love Out of Nothing," "Even the Nights Are Better," "Sweet Dreams" and "Just as I Am."
After years of producing multiple hits and performing all over the world, Air Supply has received numerous recognitions as one of the most celebrated soft rock groups in music history. In 2008, the duo was named No. 83 on Billboard's Top-100 musical acts of all time. Air Supply was also inducted into The Australian Recording Industry Association Hall of Fame in 2013.