Big & Rich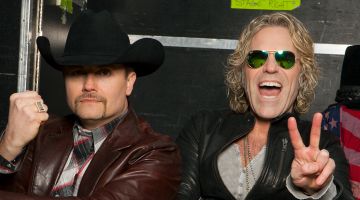 Date:
November 18, 2017 7:30pm
Cost:
Tickets from $25
Buy Tickets
America's Technicolor cowboys Big & Rich will bring their legendary hits to the Kansas Star Arena on Saturday, Nov. 18. As part of its 30th birthday bash, the Kansas Lottery is partnering with Kansas Star Casino to present the concert.
Big & Rich rose to fame in 2004 with their unique sound and top hits, including "Save A Horse (Ride A Cowboy)." With the success of their triple-platinum debut album "Horse of a Different Color," the country music duo tapped into the popular music scene. Big & Rich continues to win over fans with their chart-topping singles "Lost In This Moment," "Comin' to Your City," "Look at You" and "That's Why I Pray."
"The Kansas Lottery is excited to celebrate our 30th Birthday with Big & Rich and hundreds of our players at the Kansas Star Casino," said Kansas Lottery Executive Director Terry Presta. "We can't think of a better way to top off a whole year's worth of fun and excitement and are looking forward to working with Kansas Star Casino to make this a fantastic event."
Doors open at 6:30pm. Show starts at 7:30pm.